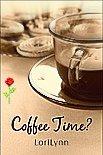 Hello one and all. Writing has always been a great love of mine.
But would you really want to come over to my house for a morning cup of coffee? Do not forget your cup of coffee before turning the first page. (Or tea, if that is your preference.) Come along and spend a day with me. Have a cup of My Coffee, but Only if you DARE.
Coffee Time? by LoriLynn can be purchased at www.publishamerica.com Just click on the link. Enter the book store and order At Your Own Risk.